Per una descrizione più articolata di questo profumo, ti invito a cercare online le numerose review disponibili, tra cui:
The community of Frag Lovers in Fragrantica
Luca Turin in his PerfumesILove
Miguel Matos in Fragrantica (scroll down for Angel's Dust)
Tomoo Inaba in Profice (scroll down for Angel's Dust)
Antonia Moreale in Anthoscents (scroll down for Angel's Dust)
Claudia Umeton in Parfumes et Beauté sur les pointes
Ana in Ana y El Perfume (scroll down for Angel's Dust)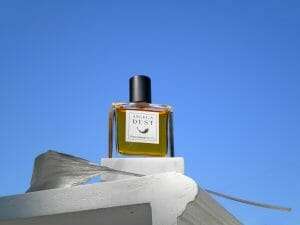 La creazione di Angel's Dust
Con Angel's Dust ho cercato di ricreare il carattere femmineo in modo innocente, leggero come una piuma ma allo stesso tempo seducente, audace e decadente. Il tocco vintage e "vecchio stile" non è stato volontario, ma una inevitabile conseguenza della mia idea di una femminilità dei tempi passati, l'idea di una donna che, nel suo boudoir in legno, si incipriava e applica altri segreti di bellezza sul viso e sul corpo. Si tratta di una donna non interessata ad affermare se stessa attraverso la carriera o lo scimmiottamento dei ruoli tradizionalmente maschili, ma cerca di esercitare il suo potere attraverso la seduzione. Ho quindi riscaldato l'accordo rosa-iris aggiungendo una combinazione di resine, che rappresentano una sensualità decadente e vissuta.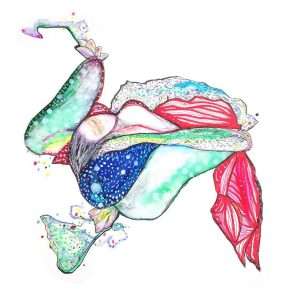 Alcuni film e libri mi hanno sicuramente ispirato. Les Liaisons Dangereuses, per esempio, rappresenta esattamente l'atmosfera sofisticata e corrotta che avevo in mente. Un film che mi ha particolarmente colpito è Marie Antoniette di Sofia Coppola. Ovviamente mi piace l'ambientazione rococò, ma ciò che amo più in quel film è il modo in cui rappresenta la femminilità: scarpe, peccati, libertinaggio, torte decorate e deliziose e assoluta spensieratezza, senza sensi di colpa.
Qualcuno ha confrontato Angel's Dust con alcuni profumi mitologici di Guerlain (Luca Turin ha citato Guet-Apens / Attrape Coeurs). Sono onorata di un simile confronto, anche se sono riuscita a sentire quel profumo solo qualche anno dopo aver fatto uscire Angel's Dust. 
ingredienti:
alcol denat., profumo, acqua (acqua), alcool benzilico, benzil benzoato, benzil cinnamato, aldeide cinnamica, alcool cinnamilico, citronellolo, eugenolo, geraniolo, gamma-metil ionone, idrossicitronellale, limonene, linalolo . </ p>