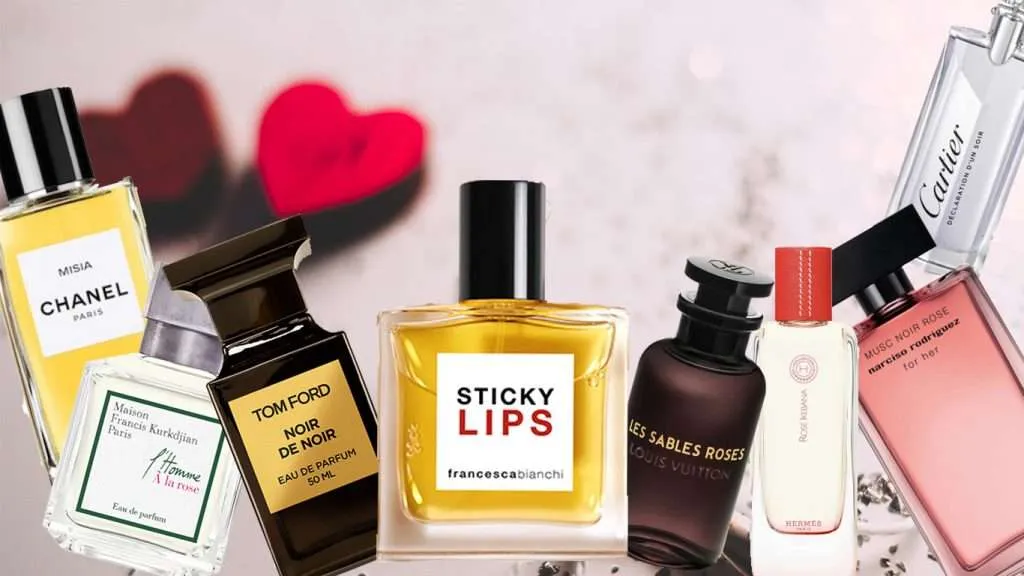 Love is in the air, can you smell it? If your answer is no, don't worry; you definitely don't need to be in a relationship to celebrate Valentine's Day. Remember you're the person you're going to spend your whole life with, so love yourself and indulge your soul and senses with a fragrant Valentine treat, so Cupid won't overlook you in this round.
If your answer is yes though, you're incurably romantic and probably your heart is already off on wings; this guide is right up your alley if you want to find the perfect present for your soul mate or simply have fun with these mix-match perfumes and some fragrant role-playing. Enjoy!
Whatever the answer, rose is perfectly fit for Valentine; it's a chameleon in the hand of perfumers that make it wear flawlessly on him and on her. So let's have fun playing with five types of couples and their scent pairings.
1. Chanel Misia + Maison Francis Kurkdjian L'Homme à la rose – MY CHARMING ONE
Elegantly dressed in black and white, the glamorous couple is likely spending Valentine's dinner in the best restaurant downtown. A classic Plateau Royal with some champagne to kick off the night, and satin sheets to top it off.
Few sprays of Chanel Misia will make the sweet smell of kisses last forever with their lipstick-tinged rose. Voluptuous like violet gleamy lips, Misia softens to reveal an iris-laden drydown feathering your skin in suede smoothest hugs.
Maison Françis Kurkdjian L'Homme à la Rose is handsome, freshly groomed with the sparkle of grapefruit as shining as his killer smile. He brings a dewy rose in his mouth and wears a freshly ironed white shirt exuding the subtle verdancy of sage and dry woods. Who needs more than pure class to fall in love?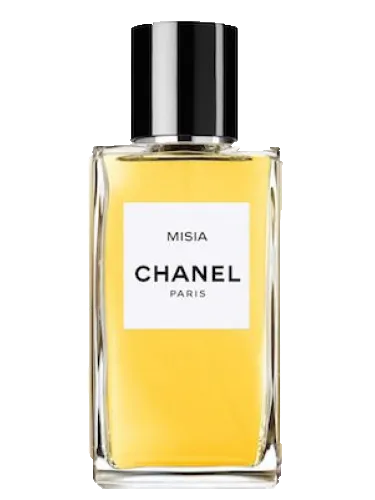 Iris root, Turkish rose, May rose from Grasse, violet, tonka bean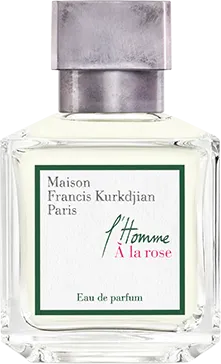 Grapefruit, Bulgarian rose, amber woods, May rose from Grasse
2. Tom Ford Noir de Noir – THE DECA-DANCERSA
Valentine's day start at twilight to some, and celebrations are more about a dissolute Sabbath rather than a romantic date. Total black look, aperitif in a baroque palace toasting with bloody red wine, and a ticket for a gothic romance movie, maybe the latest Guadagnino's Bones and all. On the stroke of midnight though it's showtime on the dancefloor of a former church, shaking better than Wednesday Addams. Tom Ford darkest potion Noir de Noir will be the perfect spell to enchant the imagination with its spiced dark rose dipped in chocolate truffles. Its vanilla and mossy woods troubling trail wears like a black cape to vanish within at dawn.
Saffron, black truffle, rose, vanilla, patchouli, oud wood, tree moss
3. Francesca Bianchi Sticky Lips + Louis Vuitton Les Sables Roses – LAVISHLY YOURS
Love makes people do crazy things like surprising your partner with a day off, a ticket to Dubai, and making whoopee. Spoiling each other in sumptuous pleasures and enjoying the most luxurious places like in One thousand and one nights fairytale is the best way to celebrate for two pleasure seekers.
Unashamedly opulent, their perfumes are the perfect "smelltrack" of this flamboyant fairytale.

Francesca Bianchi Sticky Lips takes the viciously addictive honeyed patchouli of the roaring Sticky Fingers to the next level. An overdose of plush rose and iris joins sweet tobacco to bloom forever on the skin in voluptuous lipstick and smoldering carnal hues. The ultimate reminder that perfume should be applied wherever one wants to be kissed, as Coco Chanel said. Louis Vuitton Les Sables Roses blows impetuously like the desert wind with its woody and savory dryness, carrying the smell of sunburned sand dunes and heady roses for a trail fit for a Prince or a Princess.
Iris root, rose, patchouli, tobacco
Black pepper, saffron, Bulgarian rose essence, centifolia rose absolute
4. Hermès Hermessence Rose Ikebana – KISS ME ZEN
Love is our everyday escape from the rude world, shying away from the madding crowd to sink into his/her arms. Reserved by nature, this couple eagerly will spend a chilling day at a Spa in the Swiss Alps, enjoying bubbling debut-du-siècle stone bathtubs, as well as a couple of hay bath while sipping herbal tea and handmade cookies from a covered veranda overlooking the valley.

Like breathing the thin mountain air, Hermès Rose Ikebana from the Hermessence line will be their perfect companion with its light and airy rose tinged in crisp rhubarb scarlet. Rose softly emerges from a citrus burst exuding like a halo, empowered by subtle tea notes for an intimate wellbeing sensation like a Zen kiss on the skin.

Citrus, rhubarb, rose, tea
5. Narciso Rodriguez For Her Musc Noir Rose + Cartier Declaration d'un soir – MY MUSKY VALENTINE
My musky Valentine, sweet comic Valentine you make me smile with your heart seems to echo in the air when they are together. They're such a socialite couple, always funny, always surrounded by people. Valentine's Day is not exception and they're likely spending it in good company with friends enjoying traditional food and live rock music. Their perfumes are easy-going as well leaving a comfortable cloud of musky lightheartedness.
Since the bright pink pepper top notes, Narciso Rodriguez For Her Musc Noir Rose seduces with her smile and the radiant femininity of rose unfolding the playful sweetness of ripe plum. A pinch of tuberose introduces the funky sensuality of a big musky heart, textured by hints of patchouli flawlessly framing this carefree lovely rose. Cartier Declaration d'un soir plays its lively counterpart starting the dance with the spicy bite of black pepper and cardamom, so fresh and bracing that's perfect for the night out. Rose makes an appearance through strokes of warm nutmeg and cumin, roughly sensual yet smoothed by a musky sandalwood embrace. Witty and naughty.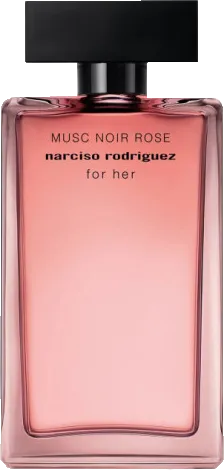 Bergamot, rose, tuberose, musk

Black pepper, cardamom, cumin, nutmeg, rose