ESXENCE MILAN – 2022
a subjective, biased and partial perspective.

This edition of Esxence Milano was challenging.
The huge number of exhibitors opened to a more "inclusive" interpretation of the concept of "exclusive" perfumery.
The fixed route was grotesque for all the professionals who, having to go from A to B quickly with a busy schedule, had to suffer repeated and useless exposure to brands outside their range of interest (and some blisters on their feet).
I was struck by the large section of skin-care at the entrance – which perhaps no one felt the need of – which distracted attention from the authentic, small, artisanal brands, placed at the very end of the forced path: when you get there you have that feeling of relief when you arrive at the Ikea plant area and you think: I made it. It's over.
Despite this, I managed to meet dear friends but above all extraordinary olfactory experiences!
I am going to mention two artists who are milestones for my vision of perfumery, who presented artworks which are worthy of investigation.
Meo Fusciuni, aka Giuseppe Imprezzabile, used to be in my mind a mythical, idealized character whom I regarded as a source of inspiration. He later became an exceptional person that I had the honor of meeting and being able to call a friend.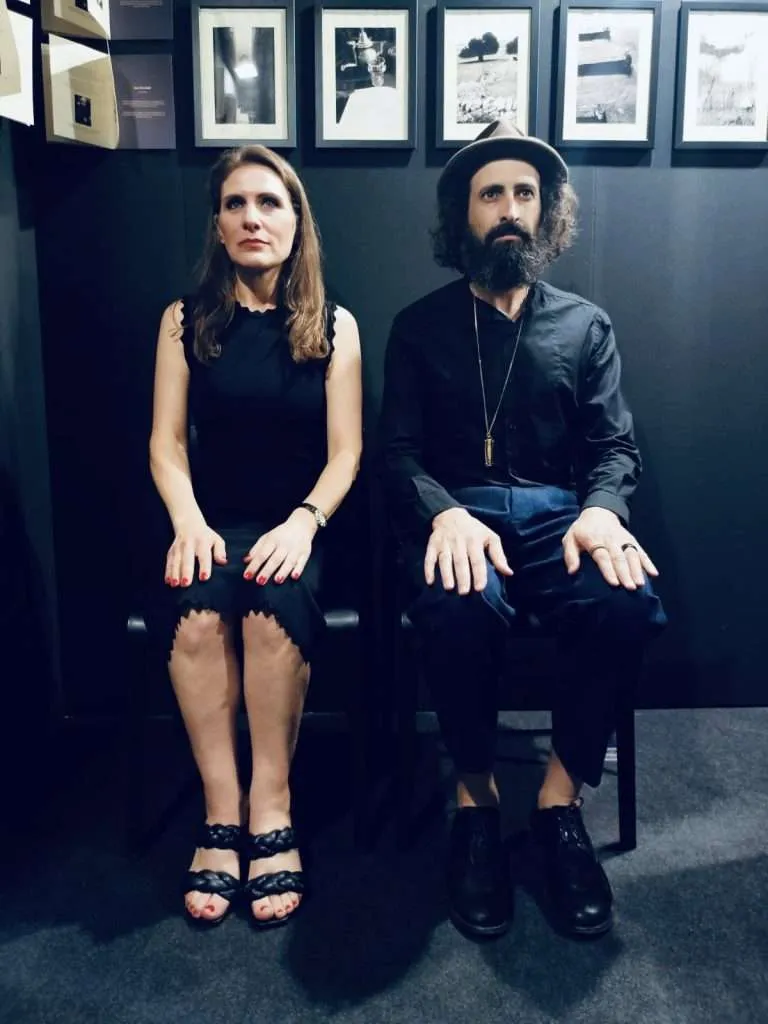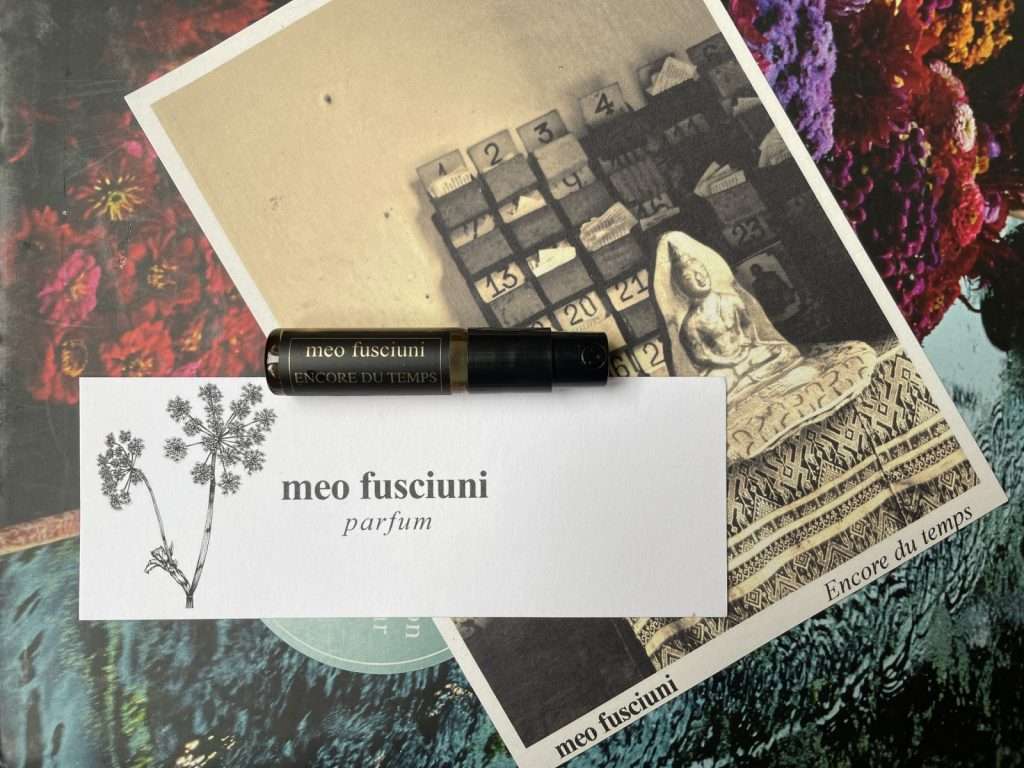 His compositions excite me, not only for the incomparable compositional style, passionately poetic, full-bodied and seamless technique, but above all because he's got that something required in every work of art that touches you to the core: that thing that grabs your guts, that tickles your emotions, that ignites your intellect.
Encore du Temps is the exceptional composition he presented this year.
An enchanting poem: grandiose, heartbreaking, it is the glorification of fragile and delicate but eternal things, and characterized by a primordial force.
It is as if Meo told us (at least I imagine him like this, with his Zen smile):
Love the strength of fragility, the courage to assert rather than deny, to choose rather than give up.
Meo chooses delicate, impermanent and fragile things like Love, which becomes strong and solid in the moment where you willingly decide to pursue it.
This perfume revolves around the poetic union between osmanthus and tea, but you don't even notice while it seamlessly becomes champaka, warmed by the sweetness of benzoin. (And much more: but I am interested in the emotional nuances more than the materials, which are functional to the emotions).
It is a perfume that portrays that eternal moment, that moment in which one is aware of absolute love, and pierces the shell of the "here and now", to unwind indefinitely.
It is the perfume that you need to smell – like a flower remedy – to perpetually prolong that moment.
It simply gives me goosebumps. Meo has the ability to translate this desire for infinity into a lyrical composition, without cloying sentimentality, but with the authentic and loving gaze that distinguishes him, while he looks towards his beloved muse Federica, a lifelong companion, the inspiration of his creation and to whom it is dedicated.
Another person in my small constellation of inspirational masters is Filippo Sorcinelli, who I am lucky and honored to call a friend today.
In addition to his line of perfumes – which raise the standard of artistic perfumery – he is a professional organist but above all he is the founder and the mind behind Atelier LAVS, which creates and manufactures liturgical vestments of the highest level.
The Vatican prelates cross the doorstep of his shop in Rome with the same excitement as we do with the shop of [name your favorite brand]. Because of my education in History of Art, and since my family used to work in the textile industry, I can lose myself for hours looking at the splendid decorations, golden threads, endless twists and turns of these sacred objects.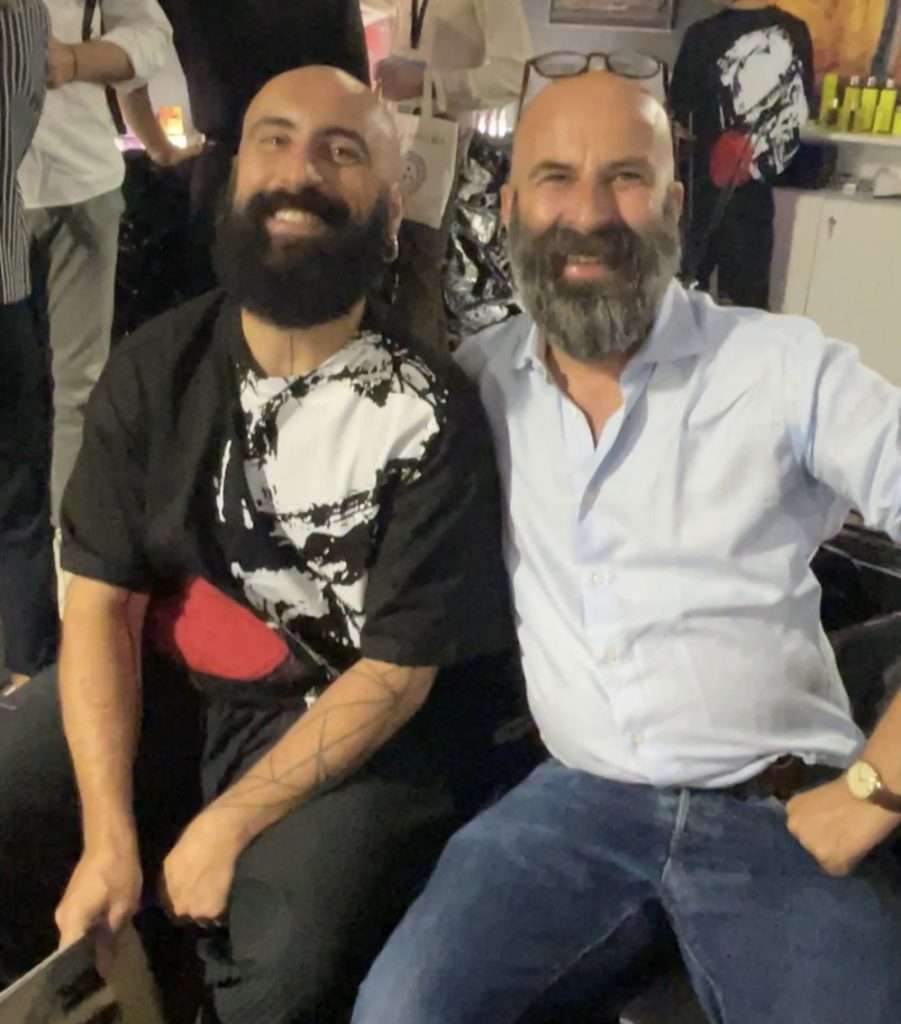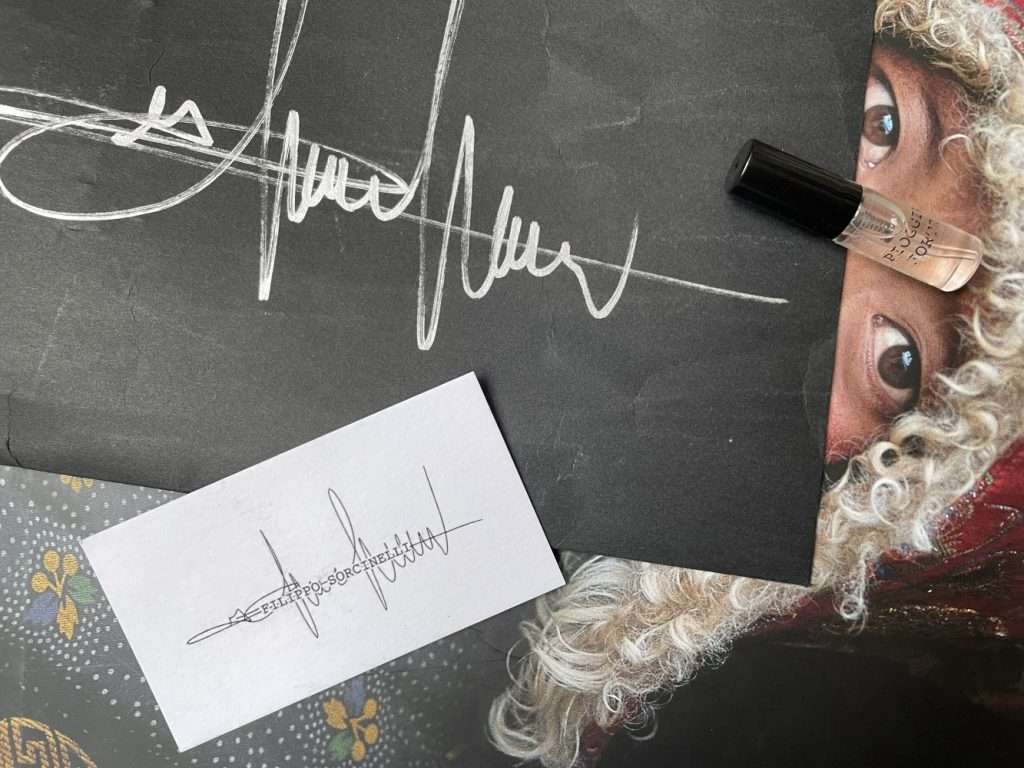 This year Filippo released a beautiful series on PIOGGIA (rain), and PIOGGIA FORTE (strong rain) is the fragrance I want to talk about.
As typical of his brand, this is the result of an artistic research with an intellectual approach, yet remaining in the hedonistic field, that is the search for aesthetic pleasure (for dummies: strange yet wearable).
The approach is partially realistic, partially idealized by a refined intellectual abstraction.
After listening to Filippo's words, they imagine two lovers who are fiercely united, hidden, as if the heavy rain had to hide, on one hand, their passion, rough in the eyes of the world, on the other hand, to echo it.
I like the ozonic facet in the opening, suggesting not only the air smelling of rain, but also the metallic aspect of some body fluids.
I like to think of Filippo's signature as an encephalogram: a proof of existence, but also a proof of resistance to senseless things.