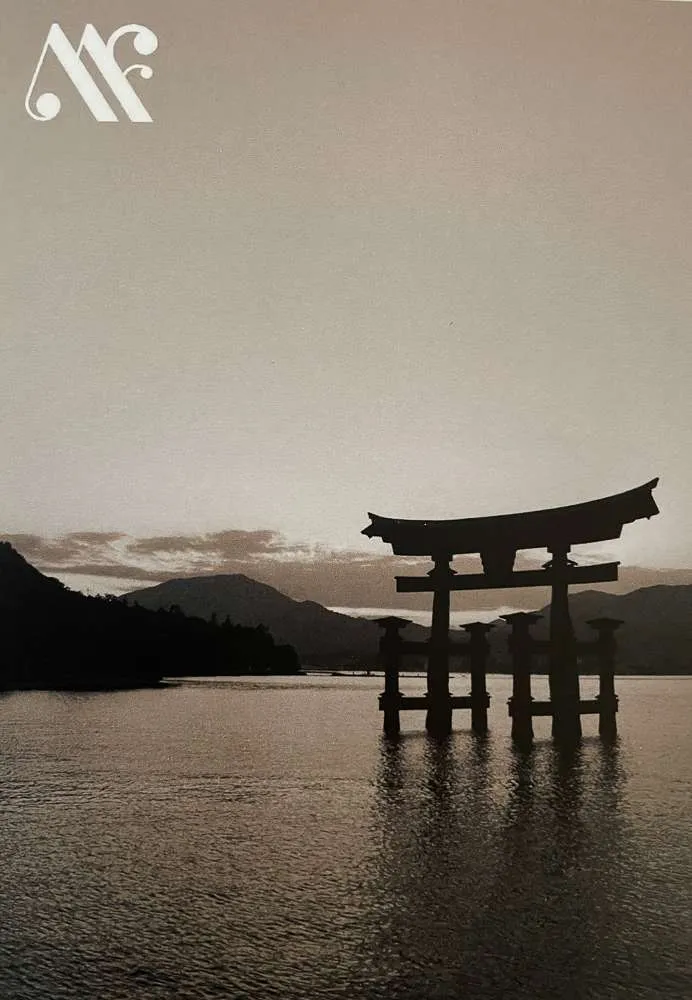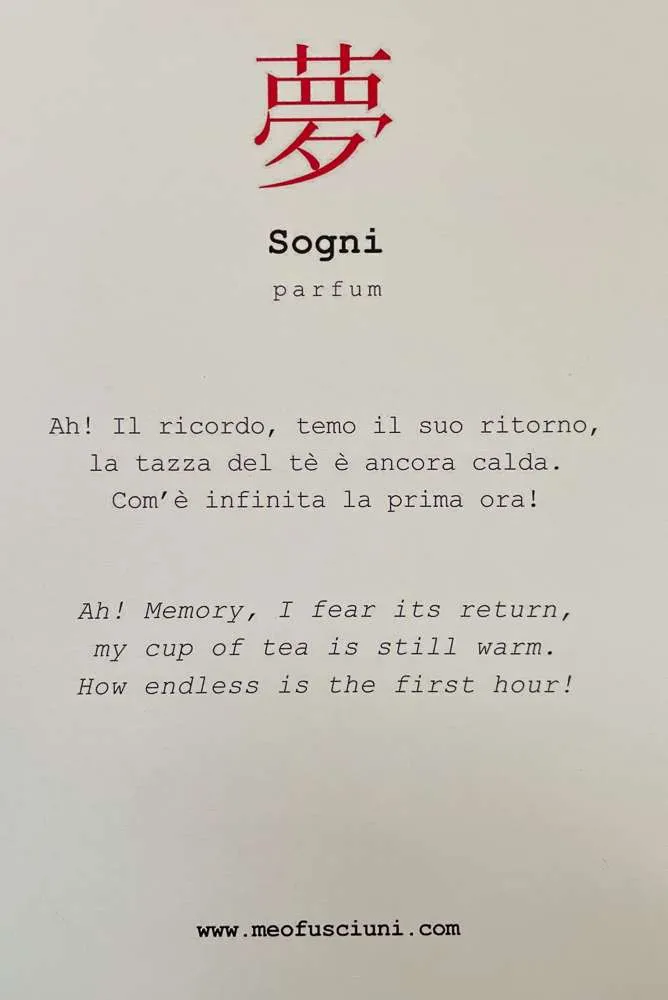 Meo Fusciuni is the poet of perfumery.
He is one of the few artists to offer such unique, artistically-elaborate creations, supported by a complex aesthetic understanding, by a well-characterized and consolidated vision of perfumery and art but, at the same time, with a very high technical level of composition.
Meo is interested in dreams – he is all the time, and not only in this case: a poet never actually deals with trite realism.
In the case of Sogni (Dreams in Italian), we tiptoe into an actual dream of his.
It is a beautiful dreamy context since it comforts and consoles; it consoles me so much that this gesture of love moves me, as if I didn't deserve such loving caress. The dream is set in a Japanese context – very much loved by Meo – whose references are delicately suggested in its development.
The dry-down corresponds – in a technically-admirable way – to the development of the very same dream. Let's smell the freshly-sprayed perfume: we are about to enter a ryokan just after the rain has stopped.
The hints of wet Japanese pine needles are striking, with the typical intensity of nature that restarts its strong and humid scents only after the rain has stopped.
The delicately woody smell of the tatami arrives quietly.
While the dream develops, it becomes more intense: the pine needles outside fade and we find ourselves inside the structure, where the tatami mats cover the floor completely.
We are served warm rice, like an gentle hug full of modesty and simplicity.
A roasted and nutty hint reminds me of Genmaicha tea, made of green tea mixed with roasted brown rice. In contrast, a refreshing and graceful peony almost brings us back to the waking state. It finally dries in a wonderful and unprecedented woody accord, supported by Guaiac wood but above all incense, thus recalling the Japanese kodo ritual. The beauty of this perfume lies in a complexity hidden by an apparent naturalness: an almost casual and transient, emotional and melancholy naturalness. It reminds me of the principles of wabi sabi, which celebrates the beauty of imperfection and of the ephemeral.
Sogni represents, in an olfactory composition, a selection of haiku by Yasunari Kawabata, Japanese writer of the last century, who accompanied me in the discovery and deployment of this perfume, thanks to beautiful postcards that also reproduce photos – dreamy and exciting – of Meo same. Sogni is a beautiful mental journey to the lands of the Far East. But it's not merely a physical journey. It is a restitution of the aesthetic and spiritual values of those lands.
They are not just hints stolen from a distant civilization: it is a gentle, respectful approach, a philosophical understanding of the beauty of Nature in its impermanent nature, in the highly controlled, exhilarating and melancholy emotion that arises from acknowledging the passing condition and being completely transient.
Some haiku that touched me while listening to Meo through his work Dreams:
The tinkling of light,
The leaf falls,
In silence.
I dreamed of a golden labyrinth,
That was the past.

The edge of nothing is close,
Japanese garden steps
are far away,
I pet the white cat.
Such a beautiful perfume.
One of the most beautiful, pleasant to wear and original of this year.
Francesca Bianchi